Ginataan is a classic Filipino merienda (snack). It has a base of thick coconut soup perfumed by pandan leaves and sweetened with sugar. Usually floating in it are bilo-bilo (glutinous rice flour balls), cubed saba (plantain), sweet potatoes, tapioca pearls and thin slices of ripe jackfruit. Sometimes, cubed ube (purple yam) and taro are added. For this Ginataang Bilo-bilo, the star is the glutinous rice flour balls with some added sago (cooked tapioca pearls). Jackfruit slices are optional.
Bilo-bilo has the mochi feel to it except that this dish is enveloped with the goodness of the sweet coconut milk. With the ingredients mentioned plus the yummy rice balls, it can really get heavy. And because I can eat a lot of these glutinous rice balls, I thought of creating a healthier version to be able to justify the amount of bilo-bilo I can eat in one sitting .. haha!
This healthy Ginataang Bilo-bilo variation has the same taste and feel of the classic one I grew up eating but pumped with some healthy and colorful ingredients. Let's dig in!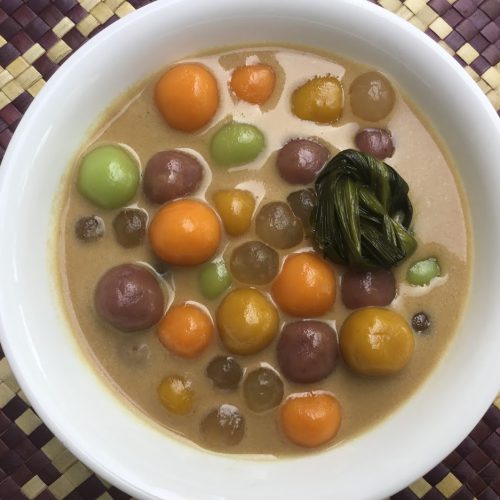 Healthy Ginataang Bilo-bilo
Ingredients
1

cup

cooked Tapioca pearls

Sago or 1-2 tablespoons chia seeds
For the Orange Rice Balls:
1 / 4

cup

sweet potato

boiled, mashed and measured (1 small)

1 / 2

cup

glutinous rice flour

1 / 4

cup

water

less 1 Tablespoon*
For the Yellow Rice Balls:
1 / 2

cup

glutinous rice flour

1 / 8

tsp

turmeric powder

1

tsp

coconut sugar

1 / 4

cup

water*
For the Purple Rice Balls:
1 / 2

cup

glutinous rice flour

1

T

Ube powder**

1 / 4

cup

+ 1 Tablespoon water*
For the Green Rice Balls:
1 / 2

cup

glutinous rice flour

1 / 2

teaspoon

Pandan extract

1-2

drops green food color

paste

1 / 4

cup

water*
For the Sweet Coconut Soup base:
1

can

coconut milk

400ml; I used Aroy-D

1 1 / 2

cups

water***

1 / 2

cup

coconut sugar

3

pcs

pandan leaves

each tied in a knot
Instructions
You need to use 4 bowls, One bowl to separately mix each colored rice balls (bilo-bilo).

Mix ingredients listed in each bowl thoroughly using a fork, gather dough with your hand then form into a ball. Repeat with each colored rice balls.

Cut one dough in half and roll into a thin log. Divide the log into smaller pieces and form into small balls by places a piece of dough in the palm of one hand and rolling with the other to form a small ball. Dust a cookie sheet (or a big platwith glutinous rice flour and place the formed dough on top to prevent sticking. Repeat with each color.

Combine all the ingredients for the coconut soup base in a big pot. Turn the heat to medium until the mixture starts to boil. Reduce heat to LOW and simmer for 3-5 minutes while stirring occasionally.

Gently place the rice balls in the simmering broth putting a few at a time to prevent them from sticking together. Simmer for 5 minutes or until the rice balls float to the top. Add the tapioca pearls and simmer for another 2 minutes.

Turn the heat off and enjoy warm or cold.
Notes
*Amount of water varies depending on the flavoring ingredients added. If dough is too wet, just add more glutinous rice flour , one tsp at a time until you reach the consistency of play dough. If it's too dry, add water one tsp at a time until the same consistency is reached. You can't go wrong with this.
**If you don't have ube powder, you can use 1 tsp Ube flavor (McCormick) but only use a scant 1 / 4 cup of water. Add a drop or two of violet food coloring if a vibrant ube color is desired. Or if you want to use fresh ube, follow the ingredients for Orange rice balls substituting ube for the sweet potato.
***Reduce water by 1 / 2 cup if you prefer a thicker soup.
****
Instead of just Bilo-bilo and sago, you can use a combination of cubed sweet potatoes, cubed plantains, sliced ripe jackfruit and add plain or flavored bilo-bilo as listed above. The sweet coconut soup base remains the same