We love rice but there are times when we have to slow down on the carbs and make a healthier alternative. Cauliflower is high in fibre, a good source of antioxidant and aids in weight loss, to name a few. That's why it's gaining popularity as a carb substitute.
This recipe is very versatile that you can substitute any spice that you want. I try to add different ones but I always go back to this, which is a combination of the spices we like and usually have.
---
Ingredients
---
Recipe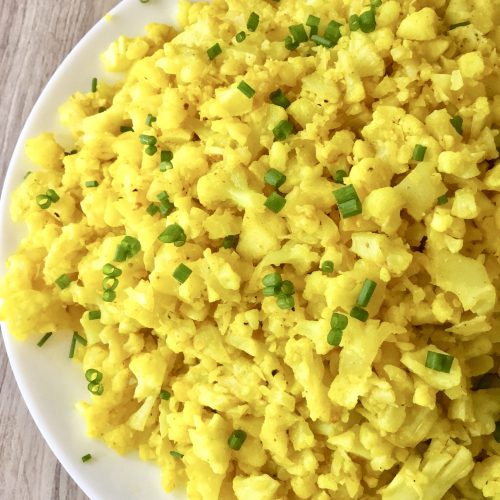 Healthy Cauliflower Rice
A hearty alternative to rice that is very versatile and simple to make
Ingredients
1

medium head cauliflower

½

teaspoon

sea salt

¼

teaspoon

ground black pepper

½ – 1

teaspoon

garlic powder

⅛

teaspoon

turmeric powder

2

Tablespoons

extra virgin olive oil
Instructions
Grate the cauliflower using the large holes of a grater or you can finely chop with a sharp knife. Line a large colander with 2-3 sheets of paper towel and place the grated cauliflower on top. Leave for at least 10-30 minutes to drain excess moisture.

Heat the oil in a large shallow pan (preferably nonstick) using medium heat. Add the grated cauliflower and sprinkle the spices evenly on top. Stir well.

Cook while stirring for 5-8 minutes. Adjust seasoning, if needed. The "rice" should be cooked but still firm.
Notes
*Cauliflower comes in different sizes. You might need to adjust the seasoning depending on the size you're using. Yield in mine was about 8 cups.
**Use it as you would with rice. I just draw the line with dishes with a lot of broth like Sinigang.
***You can add any spice that you like or have at home. You can use fresh garlic instead of the powdered one.