Food shopping is one of the activities that relaxes me. Even with a list on hand, I still end up with "extras" because food ideas keep coming to me while looking for our staples. With what's going on now, food shopping is nothing but relaxing. It's probably been a month since I last saw the inside of a supermarket because my hubby does all the shopping at the moment. I try to stretch whatever is available for as long as possible. He limits his trips to the grocery store to once every 2-3 weeks (or even longer this time) and we only go to one store to limit the time outside. Whatever is available at that particular store, that's what's on the table for the next few weeks.

This is the last upo I have in the fridge and I think it's gonna be awhile before I can get my hands on it again so I'm cooking it with sardines because it's easy, budget-friendly and it goes a long way with just a few ingredients. Good thing I still have one can stashed at the back of the pantry. 
Upo (Bottle Gourd) is considered a staple food in our house. We love the texture and the sweet taste that is present in the broth. I usually add dried baby shrimps, pork cubes or make it the vegetarian version. At times, canned sardines is what I feel like adding to it. 

This recipe for upo (bottle gourd) is a very straightforward dish. Just a basic saute that takes so little time and lunch (or dinner) is served.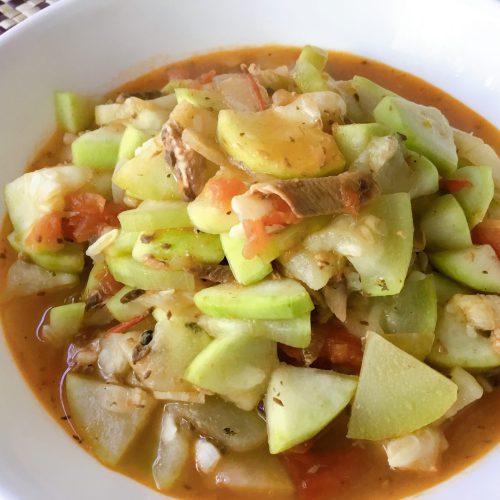 Ginisang Upo sa Sardinas (Sauteed Bottle Gourd in Sardines)
A simple, filling and budget-friendly meal that can help us stretch our money during this pandemic
Ingredients
1

medium-size Upo

Bottle Gourd, peeled,quartered lengthwise and thinly sliced

1

can sardines in tomato sauce

I used Ligo sardines

2

Tablespoons

canola oil

1

small onion

finely diced

4

cloves

garlic

minced

2 to

matoes

diced

1- 1 ½

cups

water*

Patis

fish sauce or salt to taste

Ground black pepper
Instructions
In a large pot, turn the heat to medium and put the oil. Add onion and saute until translucent, about a minute. Add the garlic and stir for about 10 seconds followed by the tomatoes. Press the tomatoes against the pan with a wooden spoon for a minute to release the juices and pour the sardines, making sure to scrape the sauce that clings to the can.

Gently break the sardines into smaller pieces then add the upo. Increase the heat to medium-high, stir well and add 1- 1½ cups of water. Cover and cook for 5-8 minutes or until cooked through.

Season with ground black pepper and salt or patis. Stir very well and turn the heat off after another minute.
Notes
*Add more water if you want to. Just make sure you adjust the seasoning.