I was quite adventurous in tasting unfamiliar food when I was a child. My parents are both great cooks so a lot of ingredients, which were foreign to me then, would show up at the dining table once in a while. Ampalaya was one of them. With new food they always said, "Try it once before saying you don't like it". There were more misses than hits then but as I grew older and I guess my palate developed, I started to appreciate the taste and flavors of most food, including Ampalaya. Thanks to them (my parents), my siblings and I have a great affinity for food (and cooking as well).
Ampalaya (Bittermelon) is likely one of the most unwanted vegetables to Filipino kids. But like a right of passage, parents would somehow try to convince their child to try it because of its health benefits. There's even this Filipino children's book (which we have) highlighting Ampalaya's benefits and how parents try to make their kids eat them. It's a well-written book and the illustrations are spot on but didn't work for my kids. Haha!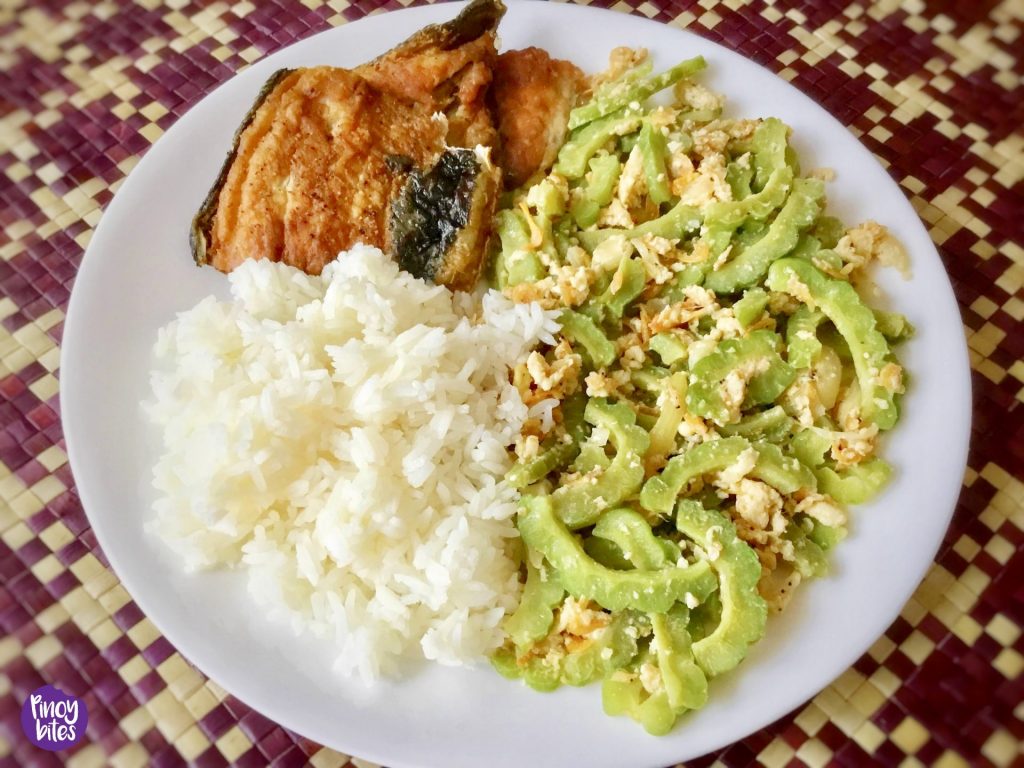 If you haven't tried it yet, maybe this is the time. I noticed that Bittermelons in North America are much milder than the ones we have back home. Somehow, I can eat it without shoving a huge spoonful of rice immediately after. It's even become part of our rotating menu, at least for my hubby and I. Even after a few attempts, my kids still don't like it … but at least they tried and that's good enough. Like what they say, you can't win all battles.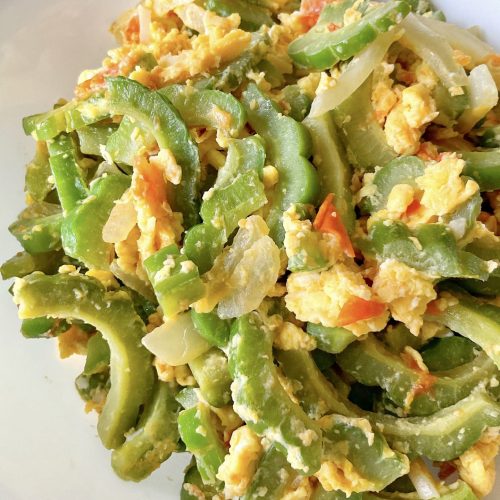 Ginisang Ampalaya (Sauteed Bittermelon with Egg)
a quick and easy weekday dish that's healthy and filling. This perfectly pairs with fried fish and a bowl of hot steamed rice.
Ingredients
2

medium-sized bittermelon

or 1 large

1

small onion

thinly sliced

3

garlic cloves

finely chopped

2 to

matoes

thinly sliced

3

large eggs

(beaten with a pinch of salt)

1

tablespoon

sea salt

soaking ampalaya

2

tablespoons

oil

canola or olive oil

Fish sauce

to taste

Ground black pepper

to taste
Instructions
Prepare the Ampalaya: Fill a large bowl over halfway then stir in 1 tablespoon of sea salt. This will be your soaking liquid. Cut the ampalaya lengthwise (in half) the scrape off the seeds and as much of the white parts inside with a spoon. Slice thinly (about ¼ inch thick) then put the slices into the salted water. Soak for a couple of minutes, drain and rinse to remove excess salt. Set aside to drain in a colander.

Add oil to a non-stick frying pan and once heated, saute the onions until translucent before putting in the garlic. Add tomatoes and saute for a minute or until it starts releasing its juice (mash a bit to release more flavor). Season with a pinch of salt and black pepper.

Place the ampalaya slices on medium heat and let cook without stirring for the first minute. Toss (or gently stir) for 2 to 3 more minutes or until crisp tender and color is still bright green. Taste and adjust seasoning, if needed.

Slowly drizzle the beaten eggs over, lower the heat and wait for about 20 to 30 seconds before mixing. Gently saute until the egg is cooked.

Transfer to a serving bowl. Best served with fried fish and hot steamed rice.
Notes
*Add more eggs if you want more protein. Ground meat, shrimp and small dried shrimps (dried alamang) can also be added. Saute the protein (except the eggs) first until cooked before adding in the ampalaya.