Coconuts grow well in the Philippines. Having said that, dishes made with coconut milk are common and every province (some more than others) has their own take on a "Ginataan" (cooked in coconut milk) dish. It can be a savory main dish, a sweet dessert or a snack item that has coconut milk as its main flavor component.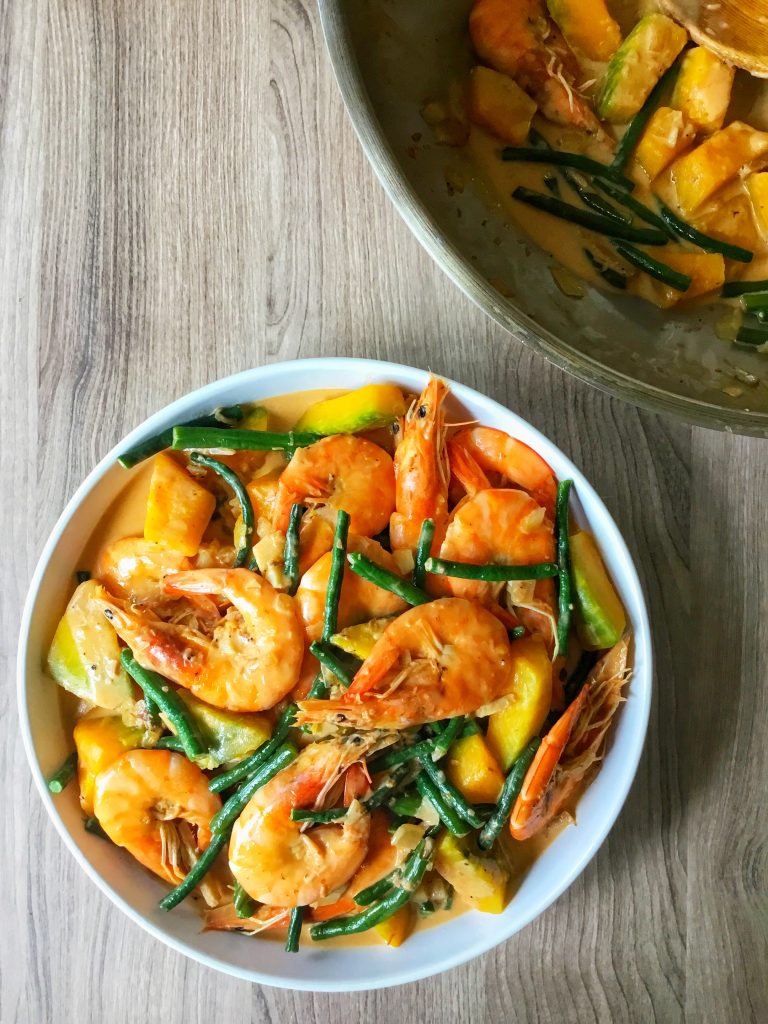 Shrimps and coconut milk go well together. Imagine the thick coconut cream blending with the orange "gold" found inside those armored shrimp heads. So heavenly! The cubed kalabasa (squash) enhances the taste, texture and also gives the dish a nice yellow tinge. The tender-crisp texture of the sitaw (snake/long beans) balances that velvety smooth consistency of the ginataan. More importantly, use a good-quality coconut milk. You're lucky if you can get your hands on some freshly squeezed ones but those of us who don't have access to it, it's essential to use a commercially packaged kind that has a rich taste and is not watered down.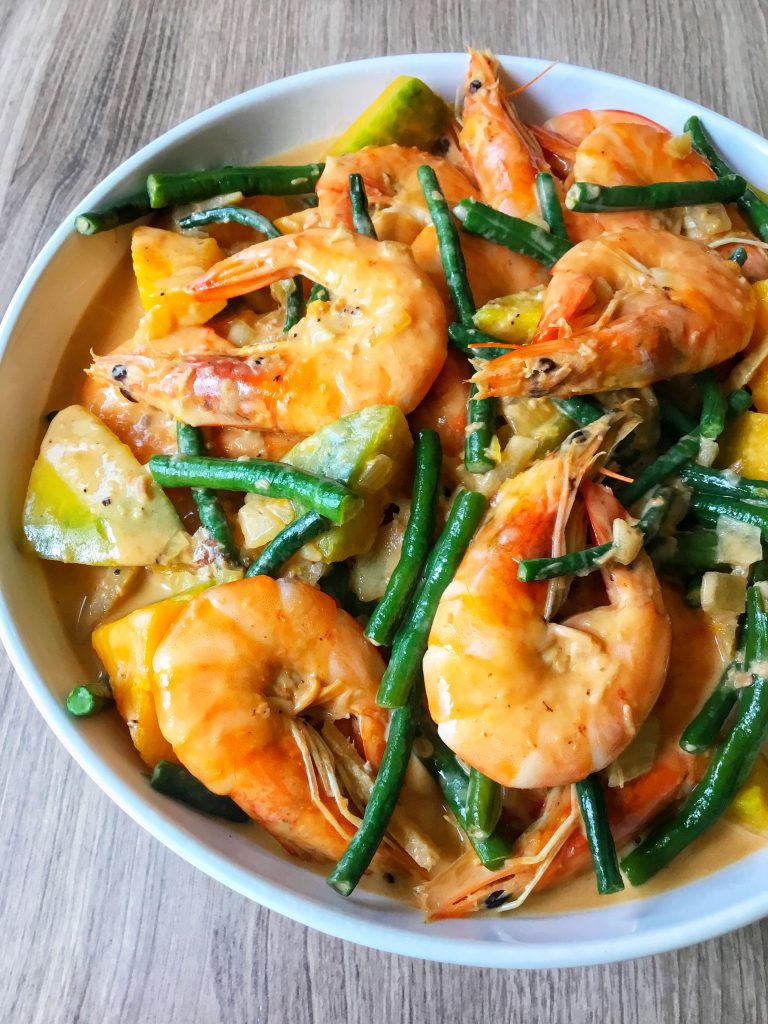 I added a whole pound of shrimp in this recipe because I wanted that extra flavor in the sauce. You can definitely use less if you want the vegetables to shine more. There's no wrong answer here….just look at the recipe as a template and adjust it to your liking. But whatever you decide, whether you follow the recipe as written or adjust the ingredients as to your preference, make sure to remember to cook some rice… and lots of it! Enjoy!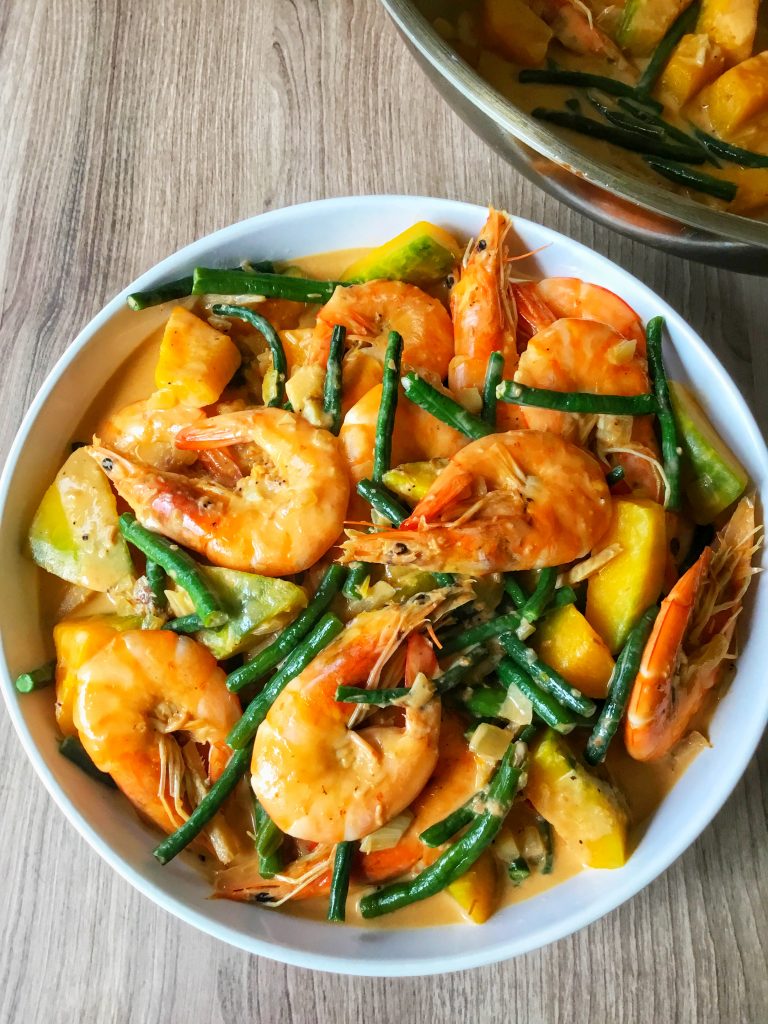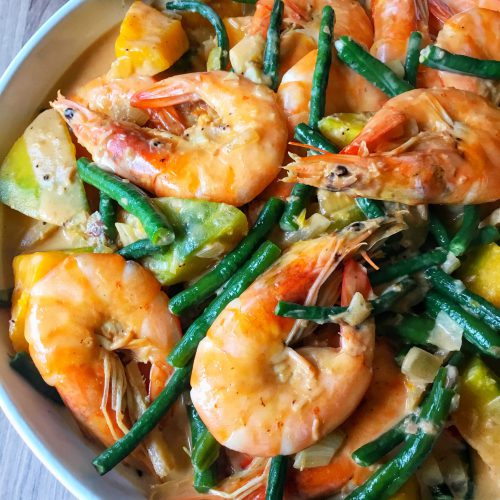 Ginataang Hipon (Shrimps in Thick Coconut Sauce)
This is a rich and succulent dish that will surely make your mouth water. Creamy, tasty and bursting with coconutty flavor.
Ingredients
1

lb

large shrimps

I used size 20/30, head-on* see notes

3

cups

Kabocha squash

cut in cubes (half of a small squash)

½

pound

sitaw

snake/long beans, cut in 2 ½ inch lengths

1

small onion

finely chopped

2

tablespoons

ginger

cut into thin strips

4

cloves

garlic

finely chopped

1 400

ml

can coconut milk

I used Cha's Organic premium Coconut Milk** see notes

2

tablespoons

sauteed shrimp paste

I used Barrio Fiesta regular

½

cup

water

3

tablespoons

cooking oil

for sauteing

Patis

fish sauce, to taste
Instructions
Heat oil in a large pan/wok (with lid). Add ginger and onion and saute for a minute. Push the ginger-onion mix to the side of the pan then add the shrimps in the middle. Cook on medium-high heat for 2 minutes (turning once) then remove the shrimps and set aside in a bowl. Add the garlic to the ginger and onion and stir for a few seconds.

Next, put the coconut milk, water and shrimp paste. Cover and bring to a boil on medium heat.

Once boiling, add the squash and simmer (covered) for 5 minutes or until tender. Then, in goes the long beans and shrimps. Cover and cook for 2-3 minutes or until beans are crisp tender. Uncover, add patis (if needed) and cook for a couple more minutes to let the flavors marry. Serve with hot steamed rice.
Notes
*You can use any size shrimps. Just adjust the cooking time accordingly. If you prefer lesser shrimps, feel free to use only half a pound.
**Use good quality canned coconut milk/cream; it makes a lot of difference. The one I used in this has a very thick and rich texture and flavor. So good!