I have a confession to make. I don't think I have ever made Maruya (Filipino Banana Fritters) for my family before. It's not that I don't like it but it's a texture issue for me. I love crunchy food (who doesn't?) but maruya batter just doesn't do it for me. I want my fritters on the crisp side and stay that way even after it's cooled down. There's nothing like racing against time and burning your tongue just to enjoy the "short window" while it's still crunchy.
This recipe came about recently when I made camote cue (sweet potato fritters). Immediately after frying, I sprinkled some toasted shredded coconut and sesame seeds which were leftovers from a previous dish that I made. It gave it a nice texture and enhanced its taste as well. So I tried putting them together in a batter with my favourite breading flour (rice flour) and we loved it! It came out really crunchy and stayed crunchy even after an hour (uncovered) at room temperature. Now , I can say I love Maruya…..just done my way!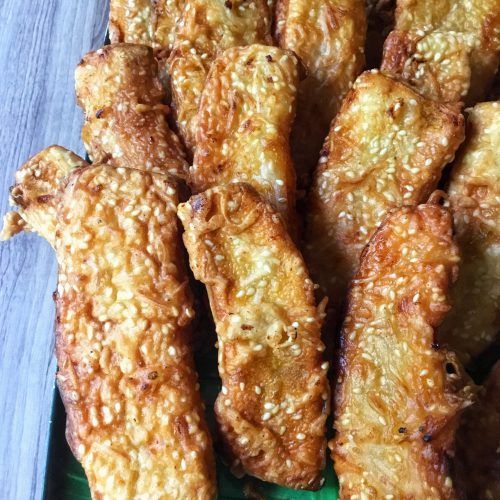 Extra-Crunchy Banana Fritters (Maruya)
An upgraded version of Maruya (Filipino banana fritters) that is tastier and very crunchy!
Ingredients
3

ripe Saba bananas

Plantains

1

cup

rice flour

plus ½ cup more for coating bananas

1/2

cup

water

3

Tablespoons

unsweetened shredded coconut

2

Tablespoons

sesame seeds

1/4

cup

white sugar

Canola oil

for frying

Powdered sugar

for dusting (optional)
Instructions
Start by heating about an inch of cooking oil in a deep frying pan.

Remove the ends of the plantains. Cut in half then slice EACH half into 4 thin horizontal slices. Remove peels. Repeat with all the bananas.

In a large bowl, combine the rest of the ingredients to make a smooth batter.

Place the remaining ½ cup rice flour on a plate and coat each sliced banana. Shake off to remove excess flour.

Next, dip the coated bananas individually in the batter and fry in the hot oil* until golden brown on both sides.

Place on a cooling rack or a strainer to drain excess oil then transfer to the serving platter. Add a little dusting of powdered sugar, if desired.
Video
Notes
*Make sure the oil is hot enough before frying so the fritters won't come out oily. To test, stick a wooden chopstick ( or handle of the wooden spoon) in the middle of the heating oil. If bubbles surround the chopstick, it's ready to fry.
**Don't use overripe plantains (saba) so it won't be mushy when battering. It should be ripe but still holds its shape when slicing.
***I find it easier to slice when the plantain still has peel on it so make sure you wash the unpeeled bananas well before slicing. It's less slippery when cutting.
****Draining the cooked fritters upright removes most of the oil clinging to the fritter.