Fresh Salmon is usually sold two ways – whole or filleted. The latter is more popular among consumers because all the bones have been picked through so it's more preferable. Whenever they both go on sale, I tend to gravitate towards the former mainly because of the huge price gap. I butcher some myself (It's not perfect but I make it work. Haha!) but keep at least a couple of them whole.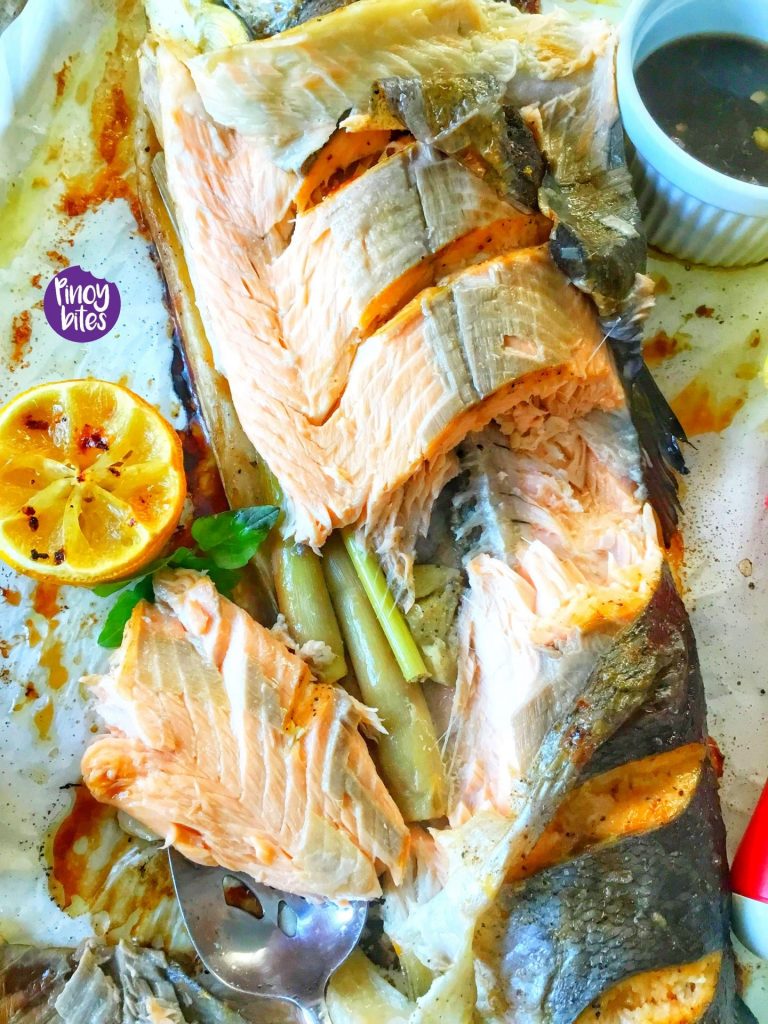 Sometimes, I cut them up into steaks and make my Instant Pot Spanish-Style Salmon. That's one well-loved recipe at home because everything's tender and edible (bones included). Roasting it whole is another easy way I cook salmon. I just add whatever spices and herbs I have then stick the whole thing in the oven until done. And I make sure to line the baking sheet with either foil or parchment to make cleaning up a breeze.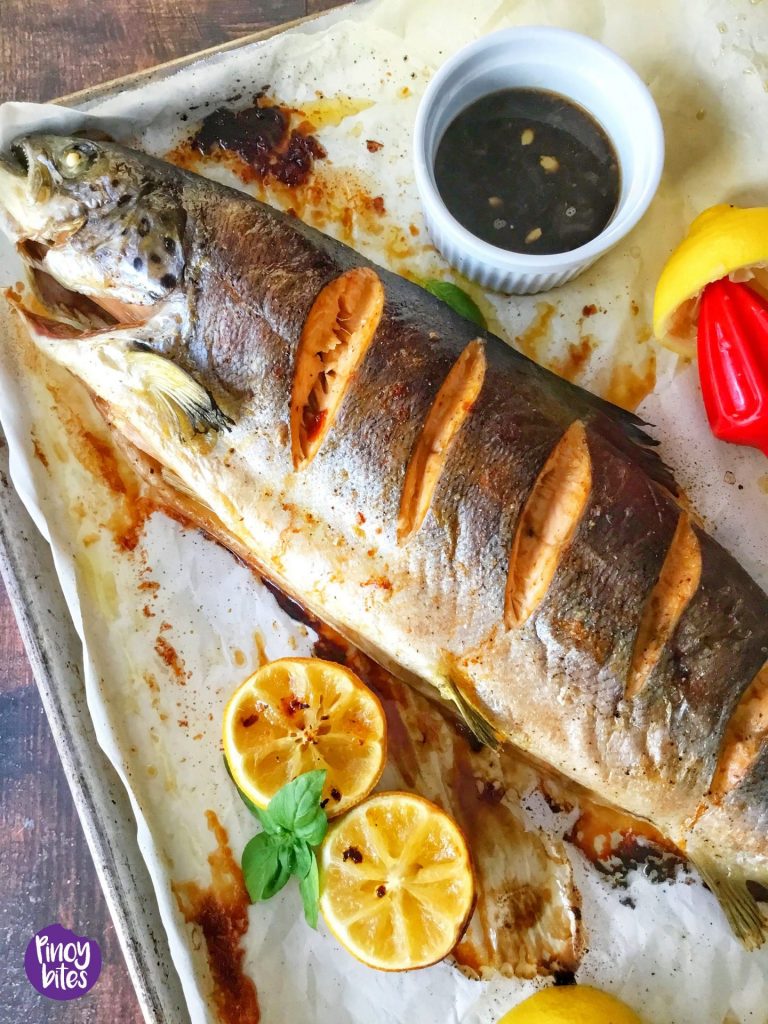 There are two ways to build flavor on this one. First, is sprinkling good 'ol salt and pepper (on the inside and outside of the fish) and the other is filling its gut with some spices which permeate the entirety of the fish as it bakes. I used lemongrass stalks and garlic but you can also use green onions, sliced lemons, slices of ginger, onions or a bunch (or two) of your favorite herbs. These aromatics help a lot in building a good flavor profile on the fish. The lemongrass contributed to the moistness of the fish not to mention the extra flavor (and smell) it gave.
This oven-roasted salmon is a great addition to your family dinner or dress it up as a main dish on special occasions. Either way, it's a palate pleaser. Enjoy!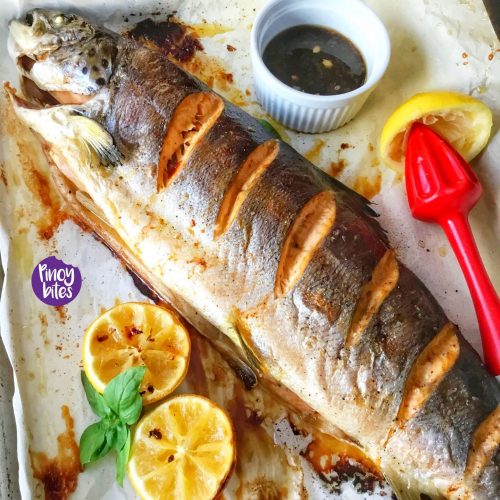 Easy Oven-Roasted Salmon (Whole)
Delectable and moist salmon dish that's not only brimming with the healthy omega-3 fatty acids but is also a delight to the taste buds. A worthy addition to any celebration!
Ingredients
3 – 3 ½

lbs

whole salmon

gutted, scales removed

6

lemon grass stalks* see notes

2

garlic cloves

chopped

1 ½

teaspoons

fine sea salt

½

teaspoon

ground black pepper

1

teaspoon

garlic powder

Olive oil

1

lemon

halved (optional)
Dipping sauce:
juice of 1 large lemon

¼

cup

soy sauce

1

Thai chili

sliced (optional)
Instructions
Preheat the oven to 425F. Line a rimmed baking sheet with parchment paper or a piece of foil. Drizzle the part where the fish will rest with olive oil. Combine salt, ground black pepper and garlic powder in a small bowl.

Pat the salmon dry with pieces of paper towels. Cut slits on both sides of the fish (about 2 inches apart). Stuff the belly part with lemongrass (folded to fit) and chopped garlic.

Coat the fish with olive oil then sprinkle with the seasoned salt mixture (both sides including the inside). Stuff the belly part with lemongrass (folded to fit) and chopped garlic.

Roast for 35-40 minutes or longer if your salmon is bigger. Switch to broil for 2 minutes if you want a crisp top. Watch carefully to prevent burning.
Notes
*I buy frozen lemongrass stalks. The leafy top parts are already trimmed and only the aromatic bulb portions are in the package. I let what I need thaw to room temperature on the counter.