Living in the province for a big chunk of my childhood, I learned a few things that I wouldn't have learned (or even thought of) had I only stayed in the city. I can vividly remember when I was about 12, Tatang (my mom's uncle who was an awesome grandpa and farmer) took me to harvest some Cassava. I was so excited but once there, I was puzzled because I could only see tall, skinny shrubs with a bunch of fan-shaped leaves on top. Then, he started pulling the hard,woody stems and out came the cassava. I was so amazed that they grow under the ground….in bunches!
This is adapted from the recipe my mom taught me a few years ago. She uses coconut water instead of coconut milk which makes it lighter. This recipe is perfect for parties because of the big yield.
Summer picnics can be more fun with some Dulce de Leche Cassava cake. Enjoy!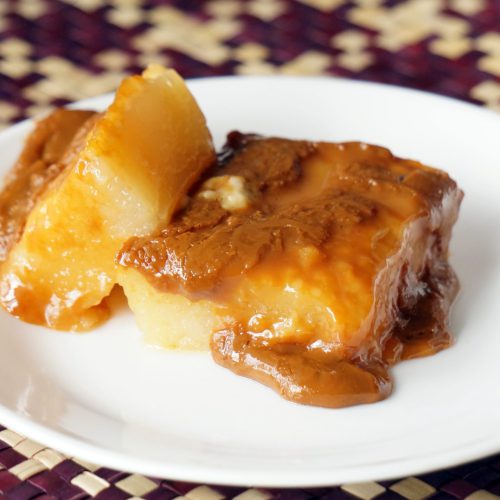 Dulce de Leche-Topped Cassava Cake
Cassave cake is a well-loved snack/dessert served in Filipino gatherings. Topping it with dulce de leche raised the yum up a bit. I used coconut water instead of coconut milk which made it lighter and tastes so good!
Ingredients
2

lbs

frozen grated cassava

(thawed)

3

large eggs

1/2

cup

melted butter

1

can

evaporated milk

(big can)

2

cups

sugar

3

cups

coconut water

(I used Zico brand)

1

can

dulce de leche

(transfer to a microwave safe container)
Additional:
2

9×13″ pan or disposable aluminum foil pan (6″x8″x2″)
Instructions
Preheat oven to 350 F.

Pick any hard fibers that you see in the grated cassava.

In a large bowl, combine all the ingredients ( except the canned Dulce de Leche ) and mix well.

Divide the mixture evenly in pans.

Bake for 40-50 minutes or until cooked through . MIcrowave dulce de leche for one minute (stirring every 30 secs) or until runny. Remove the cassava cake from the oven and drizzle caramel evenly over the cake.

Put it back to the oven and bake for another 10 minutes until mixture is bubbly and sides are setting.

Remove from the oven and serve when it's cool enough to handle.