One of the things my kids miss doing, is heading out to the mall and having their favorite fried calamari meal at Opa! . My daughter would even look forward to going just so she could have her fill while seating at the busy (and noisy) food court. Calamari is just something that's best eaten as soon as it's prepared so, no take outs on that!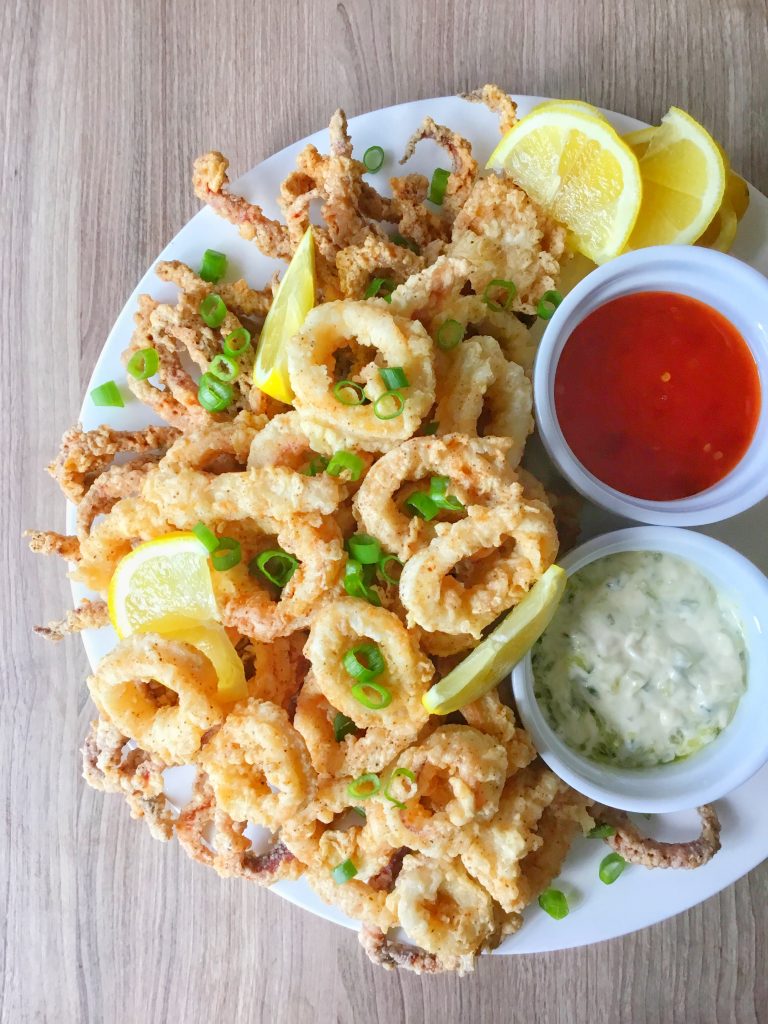 Honestly, I haven't made them in ages! It's a dish that they don't normally ask me to cook because a trip to the mall always equates to them having some. But it's been a full year since we stepped inside the mall and eating outside is one of the activities we ceased doing. That's when they started thinking about what food they miss outside and calamari  is on top of the list (next to sushi).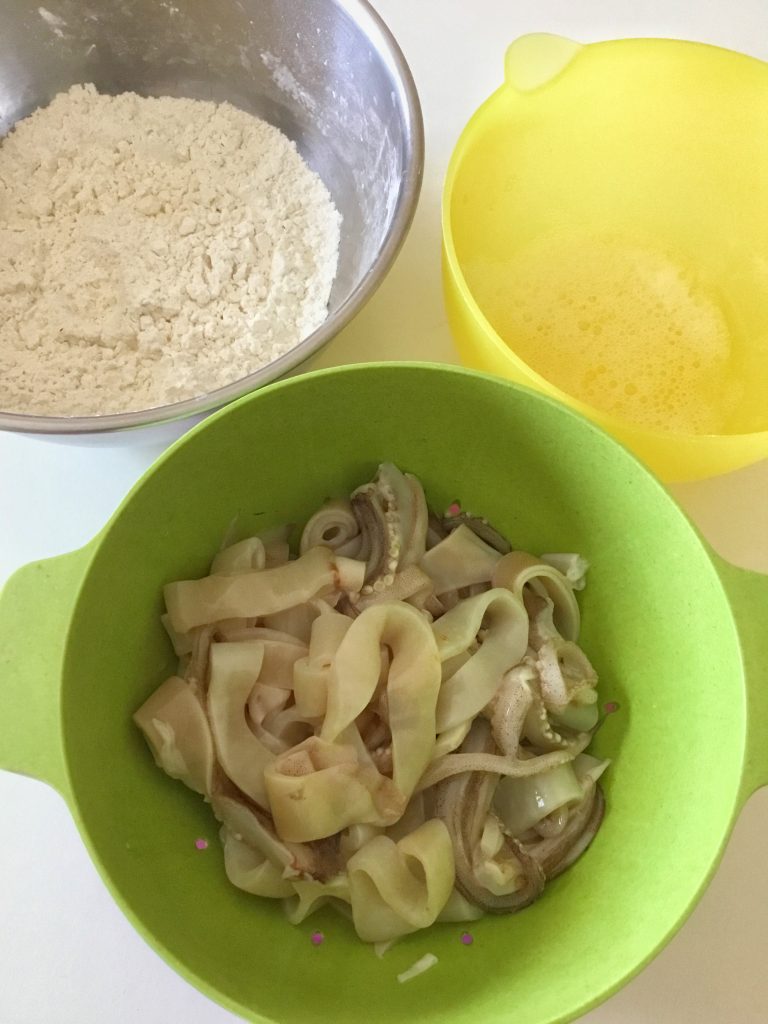 Imagine the smiles on their faces when they saw me prepping some squid. Only about ⅔ of the calamari I cooked ended up on the dining table because they couldn't help themselves (hubby included). I had to tell them pictures had to be taken first before they could feast on them. And even before we were done with lunch, they were already asking me when will the next batch be again.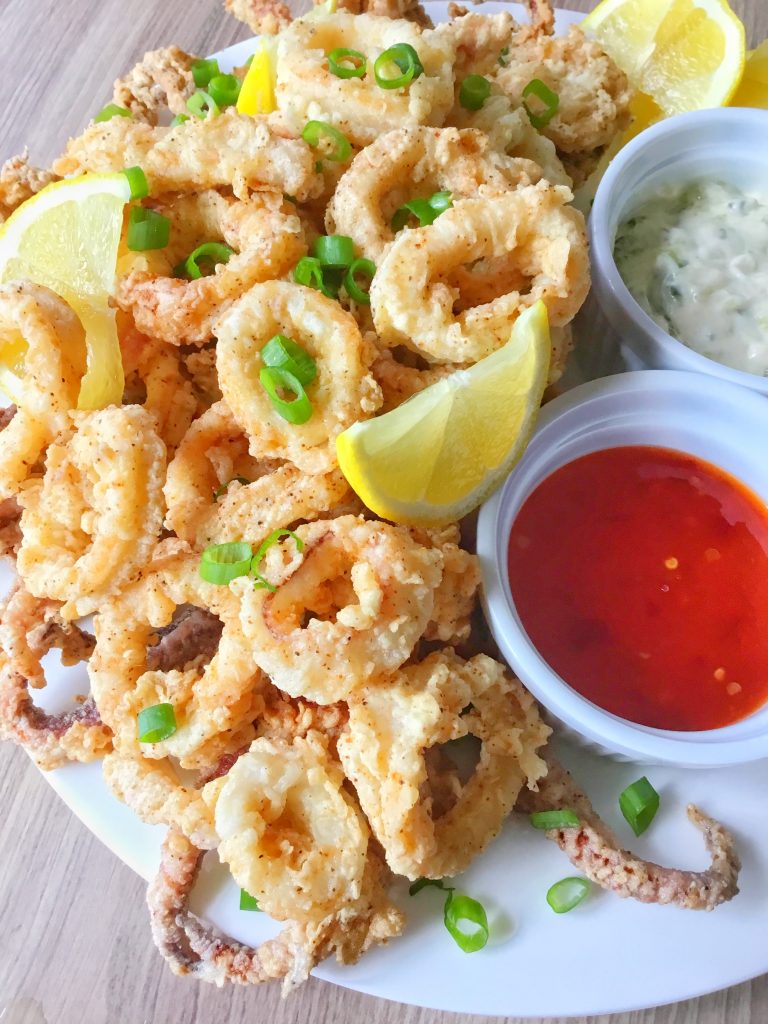 Fried Calamari has to be eaten immediately after cooking (which is not a problem with my family). Drain them on a baking sheet lined with a wire rack (not paper towels) so they won't get soggy while you cook the rest. It's also important to fry in batches and keep the cooking time at less than 2 minutes per batch otherwise, it'll be tough and rubbery.
Crisp-Tender Fried Calamari
This crisp-tender calamari is perfect as an appetizer, a main dish or just an anytime pick-me-up when needed.
Ingredients
1

lb

squid

cleaned and sliced into ⅓ – ½ inch rings (head kept intact or halved)

Juice from ½ lemon

3

large egg whites

lightly beaten

¾

cup

cornstarch

¾

cup

all purpose flour

1

teaspoon

salt

½

teaspoon

ground black pepper

1 ½

teaspoons

garlic powder

1

teaspoon

onion powder

1

teaspoon

paprika

optional

Canola oil

for deep frying
Calamari Dip:
½

cup

mayonnaise

1

heaping tablespoon sweet pickle relish

*Combine and mix well
Equipments:
Sieve

to shake off excess flour from squid

Baking sheet lined with wire rack

to drain fried calamari

Strainer

spider strainer or tongs

Candy thermometer

optional
Instructions
Marinate the squid pieces in lemon juice for 30 minutes.

Place the egg whites in a bowl and beat lightly. In a bigger bowl, add cornstarch, flour and dry spices. Whisk until well combined.

Heat the oil to 375F (You'll need about 1 ½ – 2 inches of oil). Dip the marinated squid (a few at a time) in the beaten egg whites. Then, into the seasoned flour. Toss and shake off excess.

Fry in the preheated oil for 1 – 2 minutes or until crisp and light golden. Transfer to a wire rack while you cook the rest. Calamari can easily turn rubbery when overcooked. Color will still be light when cooked. Also, fry a few at a time to maintain the oil temperature.

Serve immediately with tartar sauce (recipe above) or sweet chili sauce.