Nothing compares to having buco salad in the Philippines. Fresh young coconuts are available everywhere and the sweet, tender, and pure taste of buco is perfect! It's nowhere near the taste and texture of the buco that we (sadly) can get our hands on here in North America.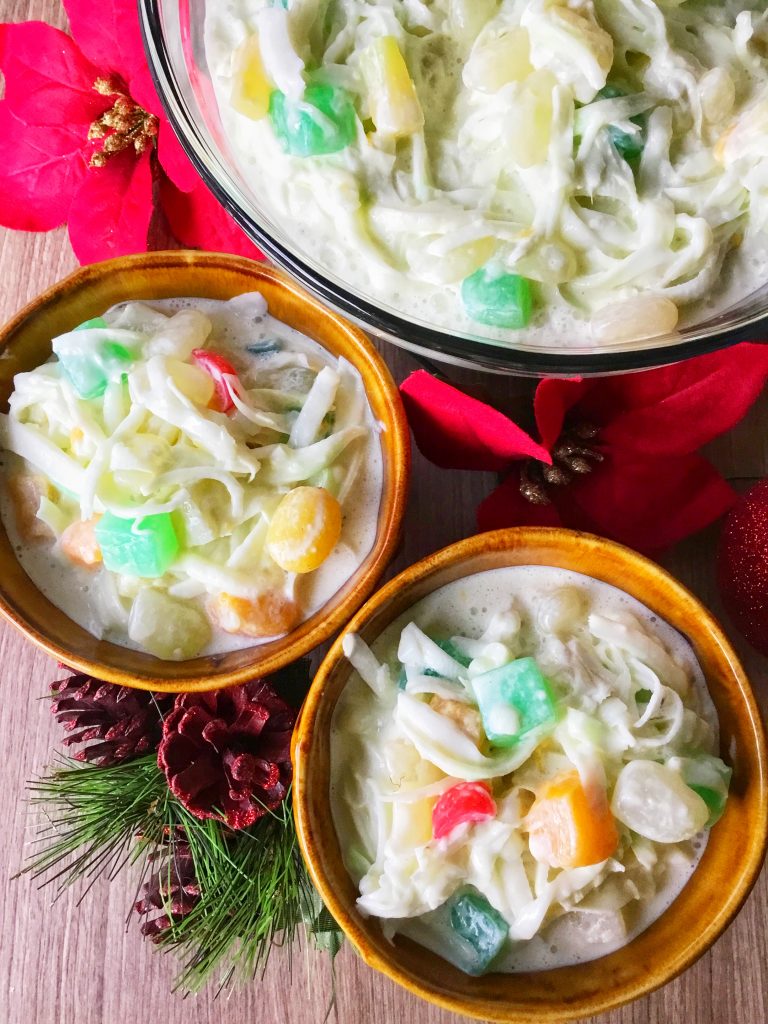 Though that's the case, we still make it with what's available to us (frozen) because more than the taste, it's that happy feeling which makes our heart smile every time we think of our happy Christmas traditions back home..
There are different brands of frozen buco at asian markets. Some have more meat while others have more water. After thawing, what you're left with is just a handful of buco. So sad. One thing they all have in common though (at least the ones I have tried), is that they're really not the kind we were used to. It's not as tender; some are even more like the ones we use for kakanin (native delicacy).
For now, it'll do. I will just look forward to the next time we can spend the holidays in the Philippines….and eat as much buco as I can stuff in my face. Haha! Here's the recipe.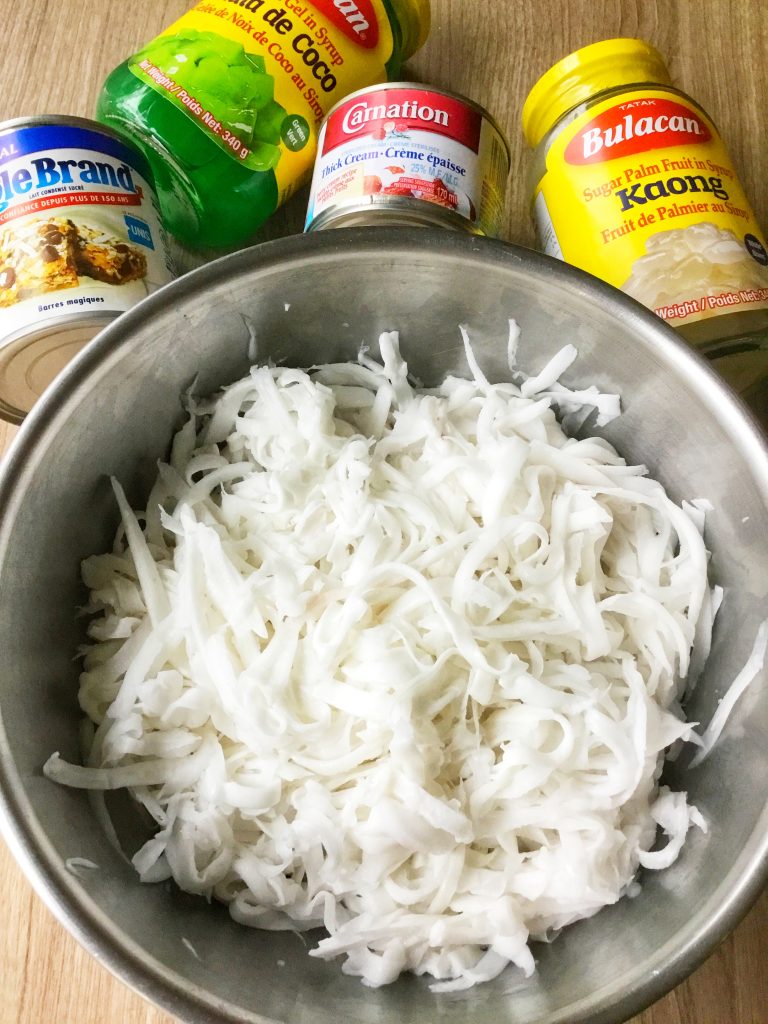 Buco Salad
A typical Filipino Christmas dessert that's sweet, creamy and bursting with young coconut flavour.
Ingredients
4-5

packs frozen young coconut

thawed and well drained

1 796

ml

cans fruit cocktail

packed in water (well drained)

1 340

ml

bottle kaong

sugar palm fruit, well drained

1 340

ml

bottle nata de coco

coconut gel, well drained

2 170

ml

cans thick cream

or 1 ½ – 2 cups heavy whipping cream* see notes

1

cup

sweetened condensed milk** see notes
Instructions
Place well drained young coconut (buco) strips in a large bowl. Add drained fruit cocktail, kaong and nata de coco. Pour in the cream and condensed milk. Mix very well.

Refrigerate until very cold, at least 2 hours. Serve cold.
Notes
*Heavy whipping cream is a great substitute and is always readily available. It contains 33-35% m.f. and can be found at the dairy section beside the fresh milk.
**Adjust sweetness according to your preference. You will use less if your fruit cocktail is packed in heavy syrup.