For most people, salad comes to mind when they see Romaine lettuce at the supermarket. In my case, lettuce wrap is the first thing that pops up. I always buy lettuce in packs of 3 or more, depending on where I buy them. This is usually too much for us but I have a strategy on how to not let them go to waste.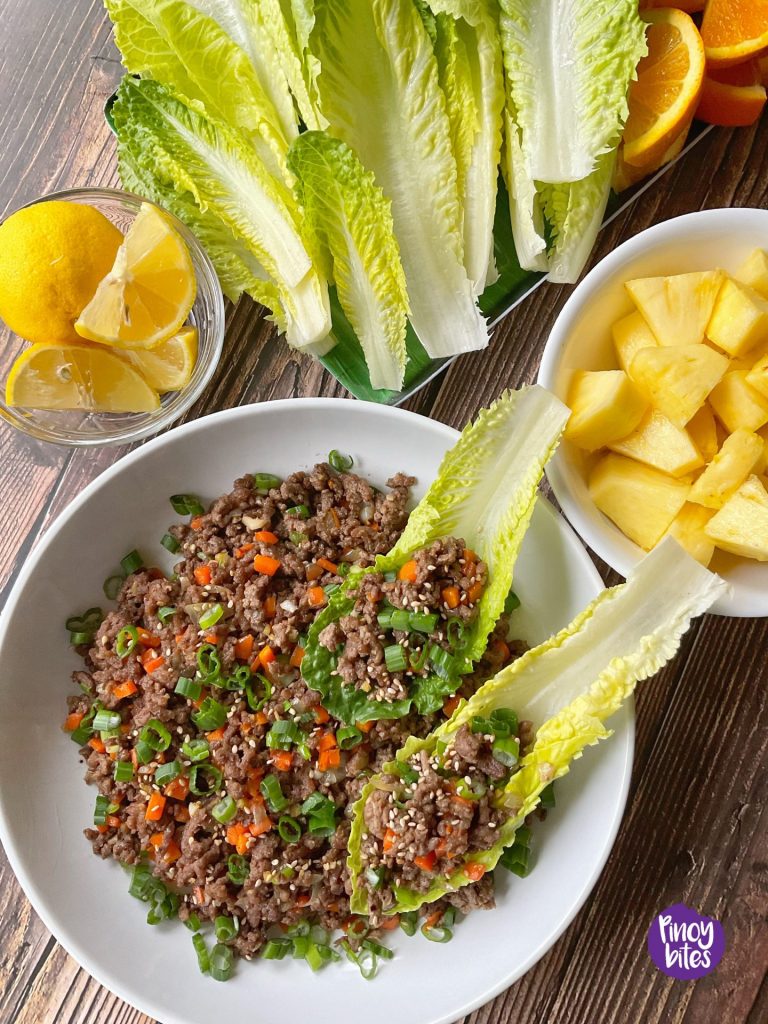 Though I buy the hearts of romaine, I still have to peel off the outer layers to get to the lighter colored ones. The limp outer leaves are perfect for Sinigang while the inner crunchier parts, I save for making lettuce wraps and some salad.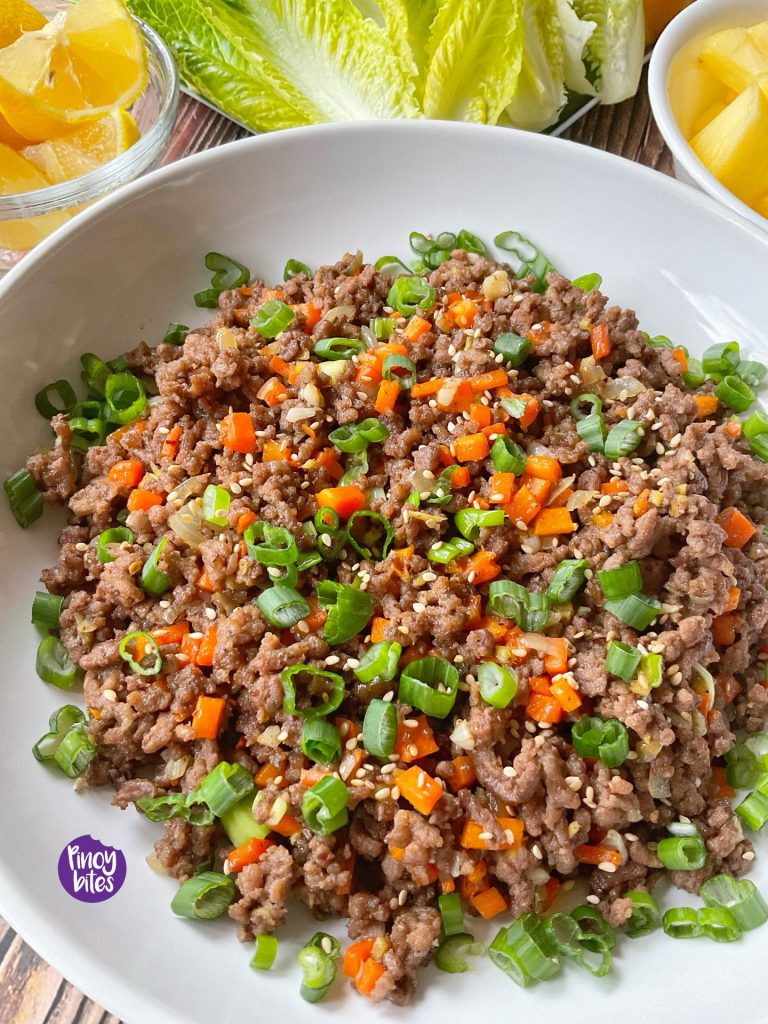 The very first time I've had something like this was at a Vietnamese restaurant in New York . That was ages ago but it  somehow managed to stay in my memory bank. I don't remember exactly how it tasted but I definitely enjoyed every single bite. Surprisingly, I only started making this a few years ago. My kids love lettuce so I played with the staple condiments in my pantry and came up with this one. Every time I make this, I see them enjoying every single bite. And, empty serving dishes never lie.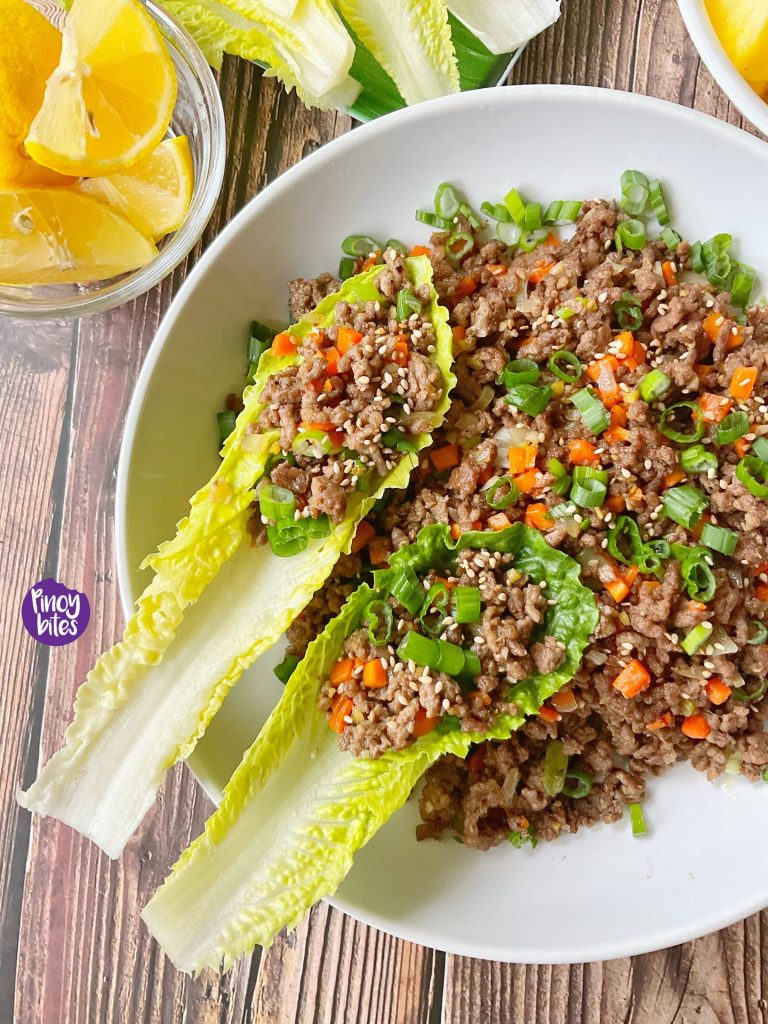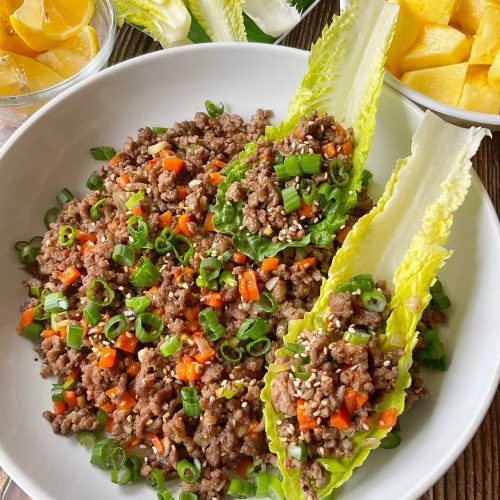 Beef Lettuce Wrap
a low-carb and healthy way of eating ground beef using asian flavors. One of my family's favorite dishes!
Ingredients
1

lb

ground beef

1

tablespoon

canola oil

1

small onion

finely chopped

3

garlic cloves

minced

2

teaspoons

ginger

finely minced

Pinch

of salt and pepper

1

small carrot

finely diced

1

green onion

chopped (separate green from the white part)

1

tablespoon

oyster sauce

1 ½

teaspoons

sesame oil

1 ½

teaspoons

soy sauce

1 ½

teaspoons

sugar

2

teaspoons

cornstarch

1

tablespoon

water

Chili flakes

optional

Toasted sesame seeds

garnish(optional)

Lettuce leaves

for serving (I used Romaine)
Instructions
Heat 1 tablespoon of oil in a pan. Saute the onion and ginger then add the garlic after about 30 seconds of stirring. Mix in the ground beef and cook until the meat is no longer pink.* (see Notes)

Add the diced carrot and the white parts of the green onion. Mix in the sesame oil, oyster sauce, soy sauce and sugar. Add chili flakes at this point, if using. Stir fry for 2 minutes.

Combine cornstarch and 1 tablespoon of water and pour over the beef. Stir and cook for 2 more minutes. Sprinkle sesame seeds and the remaining green onions. Turn the heat off.

Transfer to a serving dish and serve with lettuce leaves.
Notes
*If the ground beef rendered a lot of fat while sautéing, spoon excess off before adding in the carrots. **Use sturdy lettuce leaves like Romaine, iceberg or Boston bibb for easy scooping (holds the filling better)