Schools are closed today because of the snow last night so I was able to sleep in a bit longer. Yesterday, my kids were hoping (and maybe even praying) for a snow day and now that it's here, they're thinking of what things they can do with their free time.
Me? My mind is somewhere else. I'm thinking of food to eat/cook that's going to warm our tummies on this cold winter day.

Bulalo is on the top of the list. There's something soothing about Bulalo. The long simmering process may take awhile but that's what makes the broth rich and super tasty. The addition of corn makes it sweeter and also cuts its richness. Did I tell you it's very easy to make?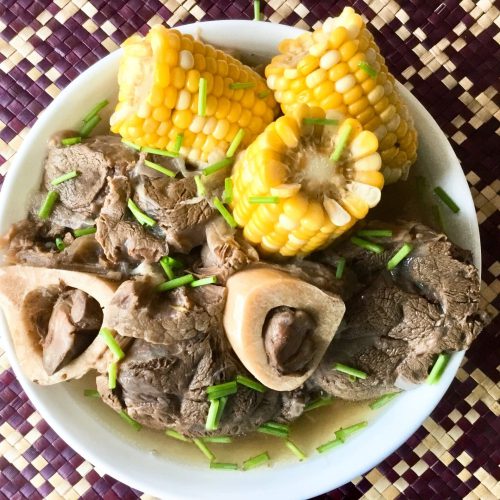 Beef Bulalo (Tender Beef Shanks in Broth)
Ingredients
3-4

lbs

beef shank slices

6-8

cups

water*

1

large onion

quartered

1

Tablespoon

sea salt

1

Tablespoon

whole peppercorns

2-3

whole corn

cut into 4 pcs

Bok choy or 1 small cabbage

quartered

1 / 4

cup

chopped green onion

optional

2

tablespoons

Patis

Fish sauce I use Viet Huong 3 crabs brand

2

tablespoons

Lemon/calamansi
Instructions
Fill a big pot with 3 / 4 full of water. Bring to a boil and gently drop beef shank pieces. Lower the heat to medium and boil (gentle) for about 10 minutes. Remove any dark scum that rises to the top. Discard liquid and rinse meat well in cold water to remove impurities especially by the bone.

Wash the pot and replace the cleaned meat. Fill with water. Add the onion, salt, peppercorns and bring to a boil on medium-high heat. When it starts to boil, skim off any scum that rises to the top and reduce heat to low and simmer until meat is tender** (see note)

Add corn and cook for 5-8 minutes. Add the bok choy or cabbage and cook for another 3 minutes. Turn off heat and add green onion (if using)

Always serve hot with patis-lemon sauce
Notes
*Add more water if reducing quickly and meat is not yet tender. For a tastier broth, don't add too much.
**If you want your bone marrow intact (and plump), carefully remove the marrow after the first 10 minutes of cooking. Set aside and replace before serving.
***Not all patis are created equal. Since I only use it sparingly, I splurge on the premium fish sauce. The Viet Huong Three Crabs brand has a very clean taste, smells good (in the fish sauce smell department) and mild in taste.