Schools are closed today due to the huge amount of snow from last night. My kids hoped (and maybe even prayed) for a snow day and now that it happened, their minds wandered what they can do with their free time. It goes without saying that they will be outside building a snowman with the pristine blanket of snow outside.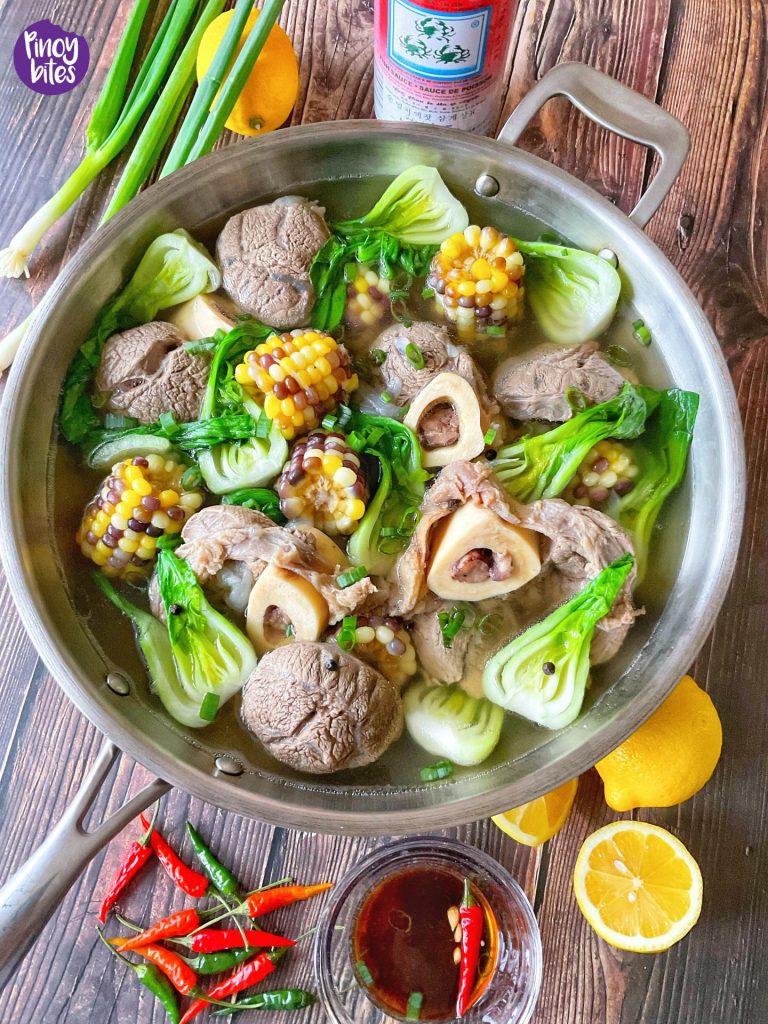 But while my kids enjoy their free time, my mind was busy thinking of the perfect food to warm our tummies on this bitter-cold day.
Bulalo instantly came to mind. Somehow, this soothing and comforting dish perfectly aligns with the mood of the day. The cooking may take awhile but that's what makes it so flavorsome. The addition of corn gives it a sweeter taste and mellows the heaviness of the soup. My kids savor each spoonful and their faces show how satisfied their 'lil tummies are.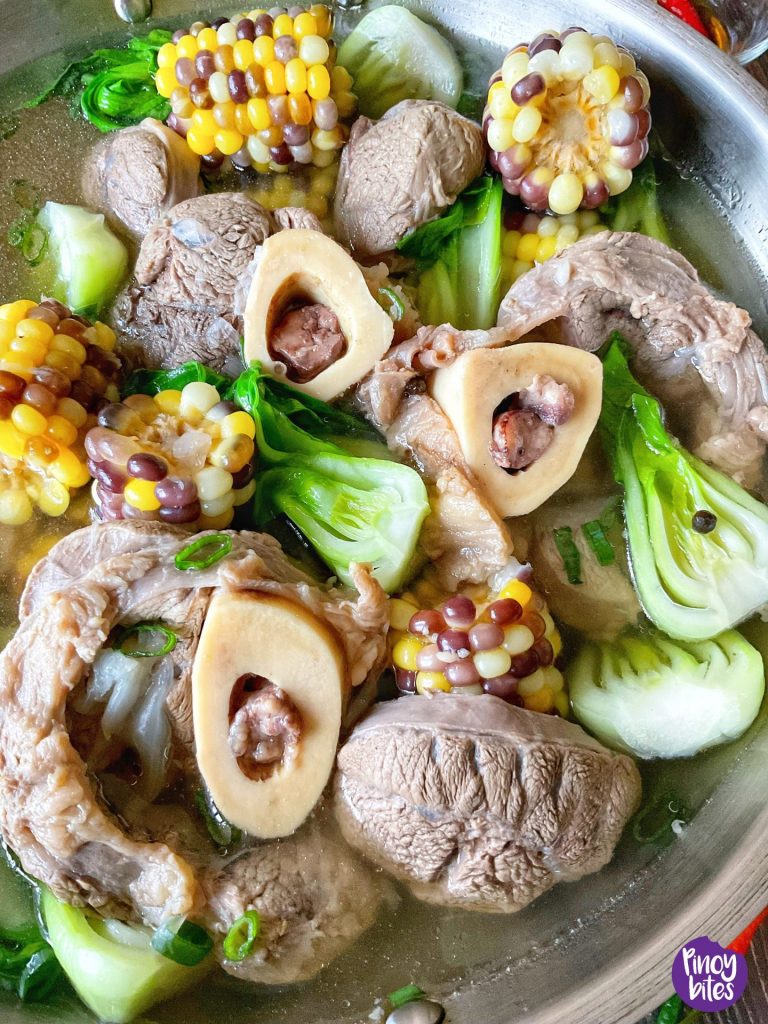 Some may think that it's the same as Nilaga. They both may have similar ingredients, identical way of cooking, taste profile but for me, Bulalo is not just the leveled up version of the former but in a league of its own. The long simmering process extracts so much from the bones (and the marrow) creating a rich and flavorful broth. Places like Tagaytay in the Philippines specialize in this comforting soup. Tourists (especially first timers) have a hard time choosing which restaurant to go to as the busy main road is flooded with signages claiming they sell the "best" Bulalo.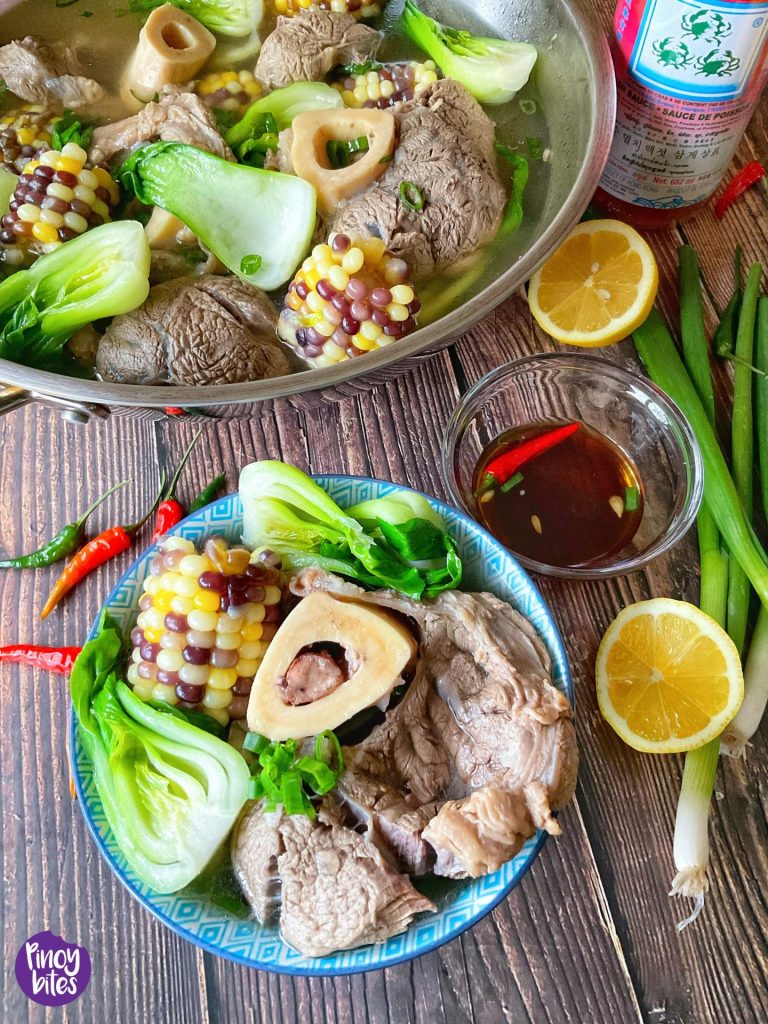 Now that having some authentic Bulalo from the Philippines is a distant reality, my homemade version truly made me feel like I'm back home. Every sip reminded me of the time I had Bulalo in Tagaytay in that al-fresco restaurant while enjoying the gorgeous view of Taal lake. Now, if only I can also make the snow go away…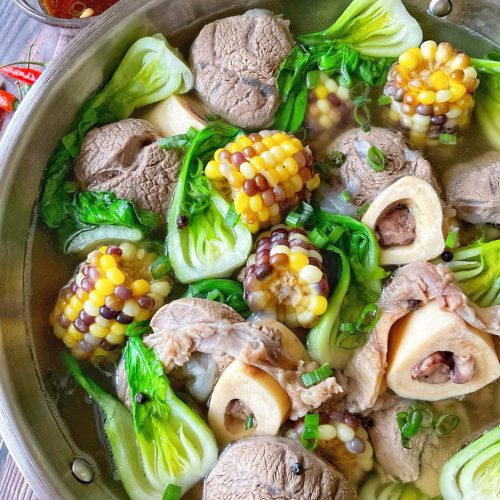 Beef Bulalo (Tender Beef Shanks in Broth)
with its very tender meat, rich bone marrow and immensely delectable broth, this is one exceptional Filipino dish! A perfect cold-weather food.
Ingredients
3 to 4

lbs

beef shank slices

10 to 12

cups

of water* see Notes

1

large onion

quartered

1

Tablespoon

sea salt

2

teaspoons

whole peppercorns

2

whole corn

cut into 4 pcs

Bok choy or 1 small cabbage

quartered

¼

cup

chopped green onion

optional

Dipping sauce:

2

tablespoons

Patis

Fish sauce*

2

tablespoons

Lemon/calamansi

Red Thai chili

optional
Instructions
Fill a big pot with ¾ full of water. Bring to a boil and gently drop the meat. Lower the heat to medium and let boil for about 10 minutes. Remove any dark scum that rises to the top. Discard the liquid and rinse the meat well in cold water to remove impurities.

Wash the pot and add the beef shanks. water, onion, salt and peppercorns then bring to a boil on medium-high heat. Skim off any scum that rises to the top as it boils and reduce the heat to low and simmer until the meat is tender.

Add the corn and cook for 5 minutes. Then, add the bok choy (or cabbage) and cook for another 3 minutes. Turn the heat off and add some chopped green onions (if using) before serving.

Combine the ingredients for the dipping sauce. Taste and adjust the amounts to your preference. Always serve the bulalo hot with steamed rice and the patis-lemon sauce on the side.
Notes
*Use the lower amount of water (10 cups) then add more if the broth is reducing too fast.
**If you want your bone marrow intact (and plump), carefully remove the marrow after the first 10 minutes of cooking. Set aside and replace before serving.
***Not all patis are created equal. Since I only use it sparingly, I splurge on the premium fish sauce. The Viet Huong Three Crabs brand has a very clean taste and smell, and not too salty.