Back to school means back to the baon (school lunches and snacks) routine. As my kids grow, their needs (and wants) when it comes to what they want to eat at school drastically changes each year. Gone were the days when lunches were much easier when all they wanted were chopped up fruits and veggies…every single time. Though the littlest one is still in that stage, the other two are on the opposite side of the fence when it comes to baon.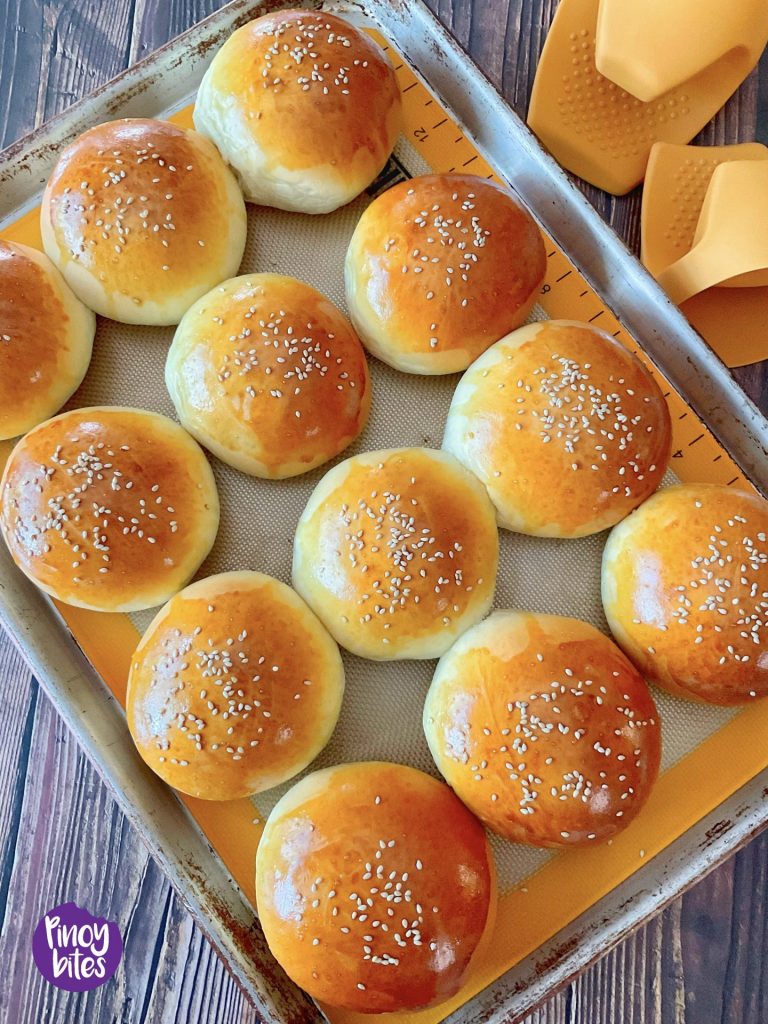 Make-ahead meals are so helpful especially when prep time is tight. These buns are a perfect example because we all love it (except for the littlest one). It's a big batch and for most families, this is a week's worth. For mine, 3 days is a stretch! As soon as it comes out of the oven, eyes zero in on the hot buns. I made a huge mistake making these on a Friday afternoon. They came home hungry and they have a three-day weekend meaning by the time school starts next week, these filled bread will be history. So much for make-ahead lunches, I know. Haha.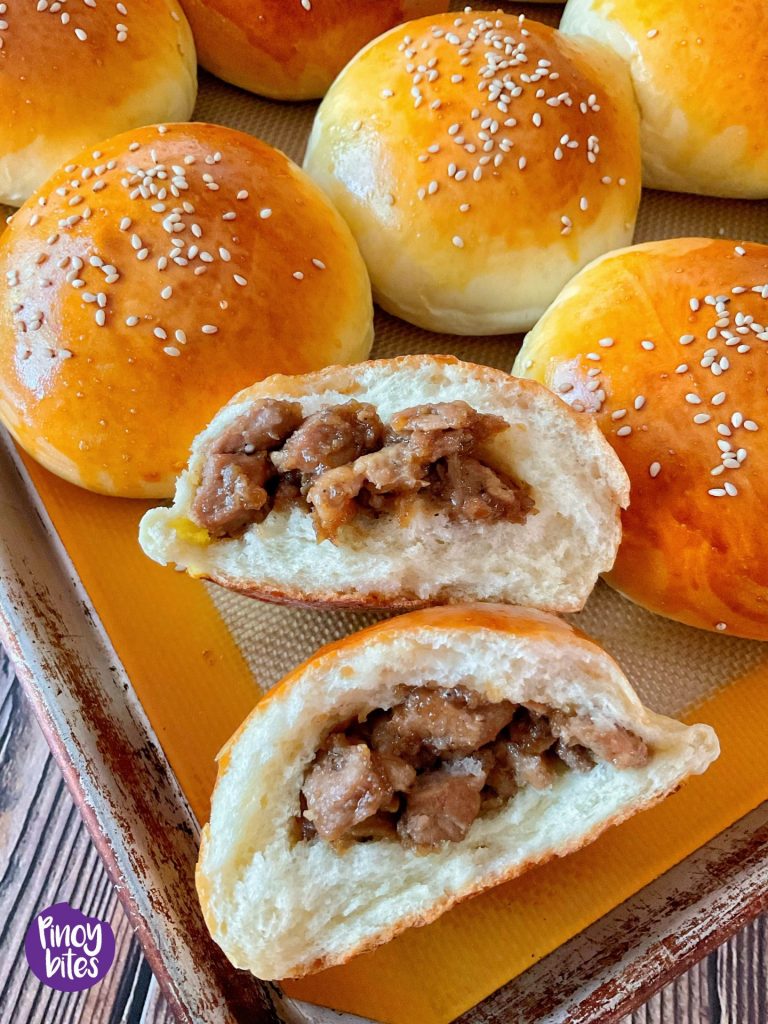 Making the filling is so manageable but for some, the homemade buns may be intimidating. I promise you it's well worth your effort. But if you're not ready to venture on homemade bread, use the Asado filling on store-bought brioche buns. No baking, no fuss.
Whenever I make these, I always use the fattier cuts of pork as it gives extra moisture to the filling and a great mouthfeel. The tiny chunks of fat mingling with the lean meat creates that perfect bite reminiscent of pork buns from Chinese bakeries. Once, I bravely gave some to my Chinese neighbors to try (with a bit of hesitation because they love this kind of food). They were happily surprised and told me it tasted better than store bought. That made me so proud but don't just take their word for it. Hope you try it and let me know what you think.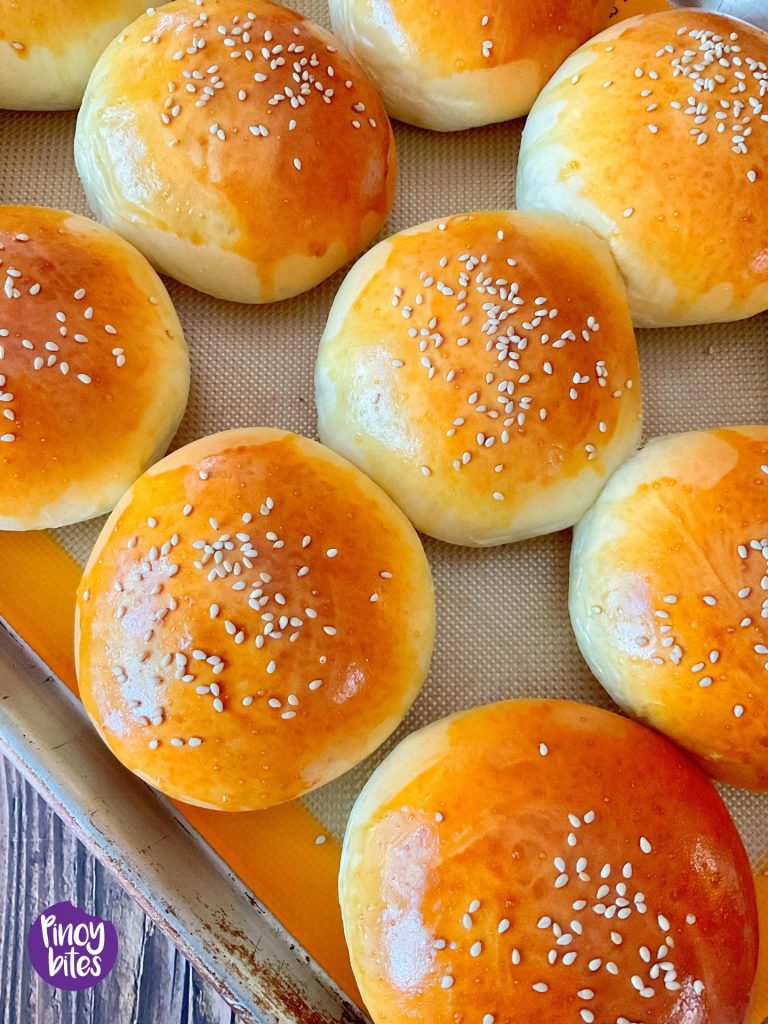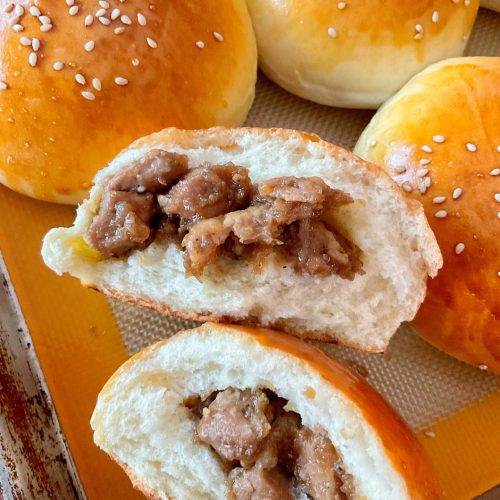 Baked Pork Asado Buns
The well-loved siopao filling is enveloped in a soft and slightly sweet dough then baked to golden perfection. You'll love it!
Ingredients
Pork Asado Filling:

1

lb

pork

cut into small dice (or 1 lb ground pork)* see Notes

1

small onion

finely chopped

3

garlic cloves

finely chopped

1

tablespoon

oil

½

salt

½

teaspoon

ground black pepper

2

star anise

¼

cup

firmly packed brown sugar

3

tablespoons

soy sauce

1

cup

water

2

tablespoons

cornstarch mixed with 2 tablespoons water
For the Homemade Bun:**
½

cup

warm water*** see Notes

1 ½

tablespoons

active dry yeast

1

tablespoon

sugar

1

cup

warm milk

2

eggs

beaten (room temperature)

¼

cup

oil

canola

⅔

cup

sugar

1

teaspoon

salt

5 ½ – 6 ½

cups

all purpose flour
Before Baking:
1

egg yolk mixed with 1 teaspoon water

egg wash

2

tablespoons

toasted sesame seeds

optional
Instructions
Heat oil in a saute pan then add in the onion. Once translucent, add the garlic and cook for a few seconds. Stir in the pork, season with salt and pepper and cook on medium-high heat until meat juices evaporate and fat is starting to urender.

Next, mix in the star anise and brown sugar. Cook for a minute to caramelize the sugar a bit. Add the soy sauce and water. Cover and simmer on low until the meat is tender (medium-low heat for 5 minutes, if using ground pork). Taste and add salt and/ pepper, if needed.

Add the cornstarch-water slurry and cook for 2 more minutes. Transfer to a bowl to cool completely or cover and refrigerate, if not using immediately. The filling can be made a few days ahead.

To Make the Homemade Bun: In the bowl attachment of a stand mixer ( I used a 6qt Kitchenaid), place the warm water, 1 tablespoon sugar and yeast. Mix and let proof for 5 minutes. It will slowly form up.

Add in the milk, eggs, oil, sugar, salt and 3 cups of flour. Using a paddle attachment, mix on speed #2 for about 30 seconds or just until it's well combined.

Switch to the dough hook then add 2 ½ cups more flour. Add more flour (a tablespoon at a time) if the dough is still sticky when touched. Continue mixing for about 8 minutes or until windowpane stage (grab a small piece of dough and when it can be stretched enough and form a thin translucent film, like that of a balloon, then it's ready).

Remove the dough and form into a ball on the counter. Add about a tablespoon of oil in the same mixing bowl, coat the dough and cover with a plastic wrap or a kitchen towel. Let rise for an hour or until doubled.

Punch the dough and divide into 18-20 pieces, depending on the size you want. Form each into a ball.****see Notes

Flatten a piece of dough with a small rolling pin (about 3 ½ – 4 inches in diameter). Scoop a heaping tablespoon of the meat filling in the middle, gather the edges together and pinch all seams to seal. Form into a rounded shape and place seam side down on a lined baking sheet. Give at least a three-finger distance between the buns to make room for rising. I used 2 12×18 inch pans.

Cover and let rise for 25-30 minutes. Preheat the oven to 350F.

Uncover, brush with the beaten egg, sprinkle some sesame seeds on top and bake for 17-19 minutes. It will be nicely golden!
Notes
*Use pork shoulder or belly. Fattier cuts make the filling juicier. But, feel free to use the leaner pork loin or plain ground pork (reduce cooking time) for an easier preparation. **If you prefer not to make the homemade bun, use store bought brioche buns and use the asado as a filling. NO baking required. ***To test water without a thermometer (should be 105F – 115F) : When dipping your finger, it should feel warm, like a baby's bath OR when touching your wrist after dipping your finger in the water, it should feel very warm but not hot. ****To form dough into a ball: Gather all the outer parts of the dough and pinch together. Place seam side down the counter, cup one hand over the dough (all fingertips and the heel of the hand touching the counter with the dough underneath) and move your hand in a circular motion, keeping all fingertips and heel on the counter until the dough forms a ball.