Almondigas is one of those dishes that reminds me of my parents' cooking. It's like a warm hug in a bowl that turns me into a child again. Growing up, I don't think we ever ran out of misua (very thin wheat noodles) because my dad loves cooking and putting it in a lot of dishes.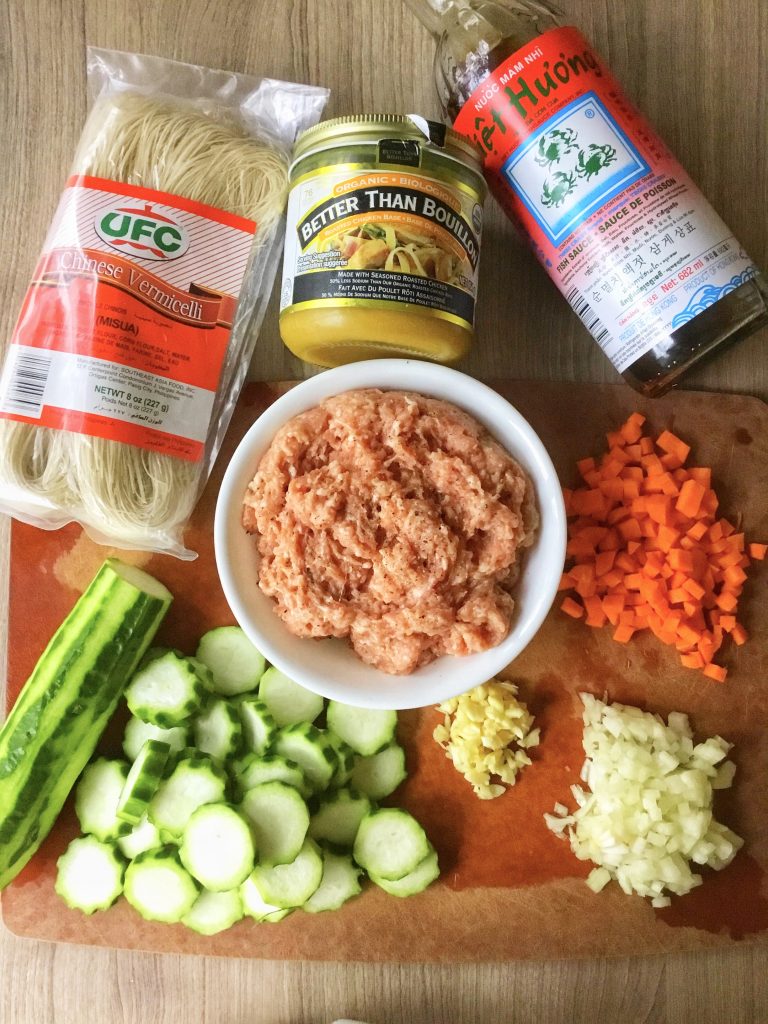 This comfort food has three distinct ingredients – meatballs, misua and patola (silk squash). I make it using chicken broth as base but plain water will do. Once the broth starts to boil, meatballs are gently dropped and simmered, which adds flavor to the soup base. Then, patola and misua go in toward the end of the cooking process. The liquid thickens a bit as the noodles cook. Some eat this by itself, in a bowl while others (like us) prefer to serve it alongside rice as a main course.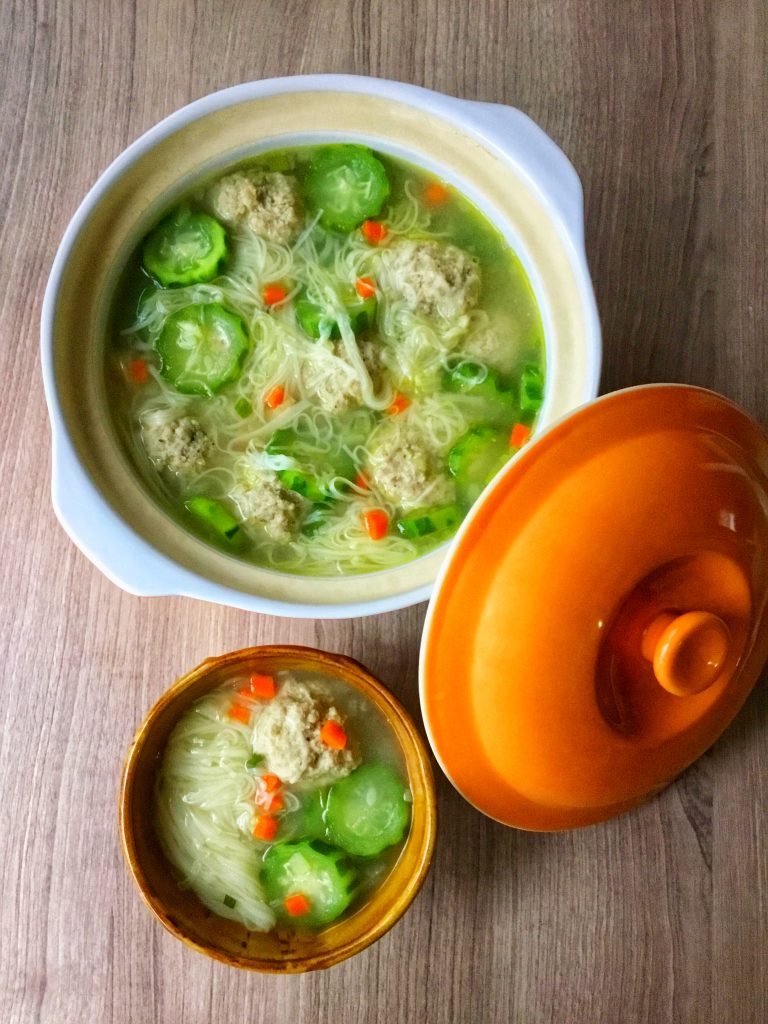 It's a very simple yet comforting dish that's especially good during the wintertime.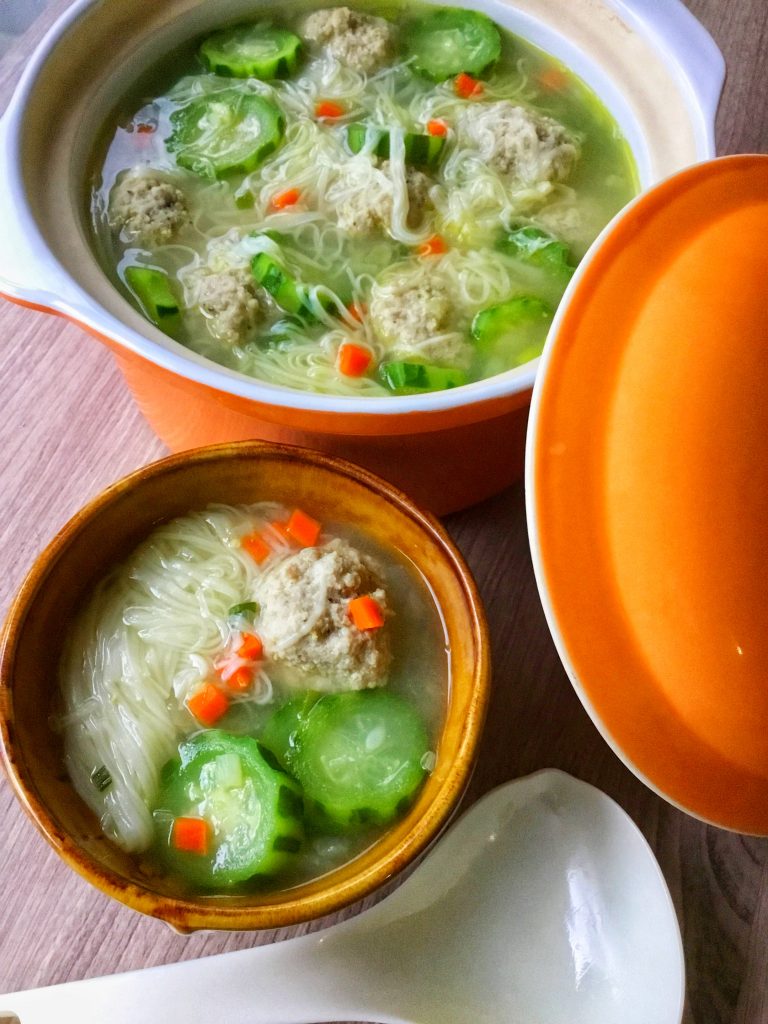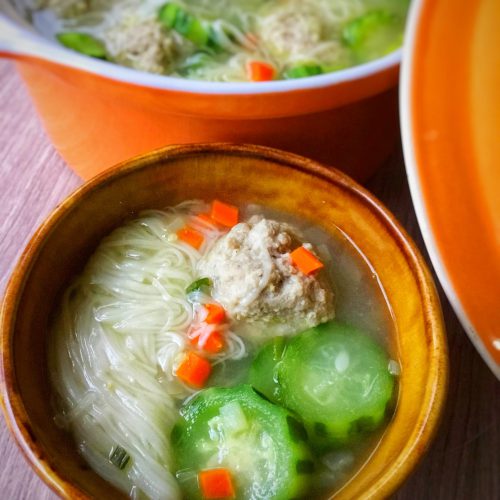 Almondigas (Meatball Noodle Soup)
It's a slightly thickened soup filled with pork meatballs, very thin wheat noodles and some thinly sliced sweet silk squash. A truly comforting dish!
Ingredients
For the meatballs:
1

lb

ground pork

½

teaspoon

salt

½

teaspoon

pepper

½

onion

grated

1

egg

1 ½

tablespoons

cornstarch
For the soup:
2

tablespoons

oil

½

onion

finely chopped

3

garlic cloves

minced

1

small carrots

finely diced

8

cups

chicken broth

(I used Better Than Bouillon roasted chicken base)

1

patola

peeled, sliced thinly crosswise

1

green onion

thinly sliced

Patis

seasoning

4

oz

misua

very thin salted wheat noodles
Instructions
Using a large bowl, add all the ingredients to make the meatballs. Mix very well to combine. Form into meatballs, using about a heaping tablespoon of the mixture per ball. Set aside.

Heat a large pot and add the oil. Saute onion until translucent, followed by the garlic. Add the diced carrots and saute for a few seconds before adding the broth. Bring the soup base to a boil.

Once boiling, gently drop the meatballs one at a time and cook for 10 minutes or until cooked through. Add the patola then the misua. Cook for 2 minutes. Taste and season with patis (fish sauce) and freshly cracked black pepper, if needed. Turn the heat off.